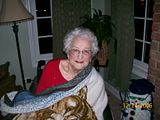 I just got home from a wake. It was for my "Gram". she wasn't actually family but My mom has been best friends with her daughter since they were kids. So Gram has been around all my life.
After my both my grandmas died she was the only one we had left. She's been there for all of our birthdays and for vacations and picnics and for holidays all my life. She was a great lady. I will miss her dearly. I took the pic christmas eve we had gone out to dinner and had been joking around when i took the pic so Gram's cheeks are nice and rosy (well from laughing and a couple glasses of wine at dinner) but this is how i will remember Gram best lol having a good time and usually cold with a blanket wrapped around her.
I love u Gram and I will miss you dearly.