I just wanted to introduce you to my baby... now that I have her home I wish I would have saved for the one with a bigger HD since I find myself using her A LOT even when I am sitting at my desk in front of my desktop but I digress. I am debating moving all my tv show avi's over to her since it would clear like 36 gigs off my desktop's external drive and when I am out or whatever at least I will have tv shows to watch if I am bored.
I put the KMPlayer on her in case I screencap the shows too I can just move them to the desktop if I want to make icons and whatever since screencaps take up a lot less room than the avi's themselves. I still haven't hooked lucy up to my usb cd burner I want to see if she works with that cus that will also help if I want to install a program on her or just want to put stuff that ends up on her onto a cd

I will probably be upgrading her ram in the next few weeks depending on when I get some extra cash. I be broke now that I bought her. Next week I have to pay car insurance and I also need to get my driver's license renewed.
ok so here are a couple pics of Lucy
click to enlarge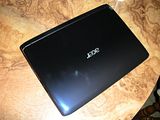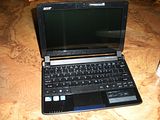 I also want to get Lucy a neoprene sleeve, for when I put her in my purse/bag whatever, and I kinda want to get her a skin that I saw... I have a few stickers I want to put on her BUT I don't want them to be on the cover I'd rather put the skin on then add stickers and whatever. Ok I am anal like that... I know a skin can be removed but if I want to take the stickers off i don't want them to rip get all half stuck and all that crap.
so share my joy and welcome my new baby.