click to be taken to original pic and I will be adding a pic i take tomorrow hopefully when the sun is out so you get the full effect
not sunny today this is the best pic I could get, bathroom lighting and no flash. I will add another pic once it is sunny
this pic is natural light in the shade
in the sun (it looks prettier than I could capture)
I have to say I've only used nail magic for a week and my nails do feel harder. I used nail magic as a base then the other day I put it on again as a top coat. I don't know if i'd rec nail magic cus there are not so awesome ingredients in it (nailmagic.com). the box says it's been the same formula for 60 years. I will be using it for at least 8 weeks and see how my nails are.
my polish lasted with minimal wear on the tips for 7 days. so it's just as good as a base as my instant artificials. I want to see how it lasts with the glitter polish I am wearing this week though.
I really want my nails long and pretty for thanksgiving.
I liked this pic the sun wasn't fully out but you can see the glitters really good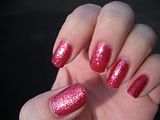 couldn't help it but I took a short video of the mani
I was feeling a little fun today so instead of a dark color which i have worn the past few weeks I decided to wear my glitter red polish china glaze's mrs claus
Current Location:

60176

Current Mood:

calm